Is Artificial Turf a Better Option for Playgrounds?
When comparing artificial turf to other surfacing alternatives like natural grass, wood chips, and sand, it is easy to see just how much better installing synthetic grass for a playground can be. One of the primary reasons for this is that natural grass, wood chips, and sand are difficult to maintain. Without sufficient watering, natural grass becomes brown, patchy, and rough. It can also easily succumb to wear and tear, creating holes and other trip hazards. Wood chips and sand are also commonly affected by wear and tear, creating uneven surfaces and providing little cushioning for falls or running feet. 
Artificial playground turf, on the other hand, does not share these negative factors. Our synthetic grass is incredibly durable and requires little maintenance throughout its long life. As a result, your playground can have a softer, more consistent surface for children to play on that is unlikely to change and develop potential hazards. However, these are not the only benefits of installing artificial turf for a playground in Miami or Orlando, Florida. There are so many more!
Benefits of Artificial Playground Turf
Some of the many benefits of installing high-quality artificial playground grass from Top Turf include: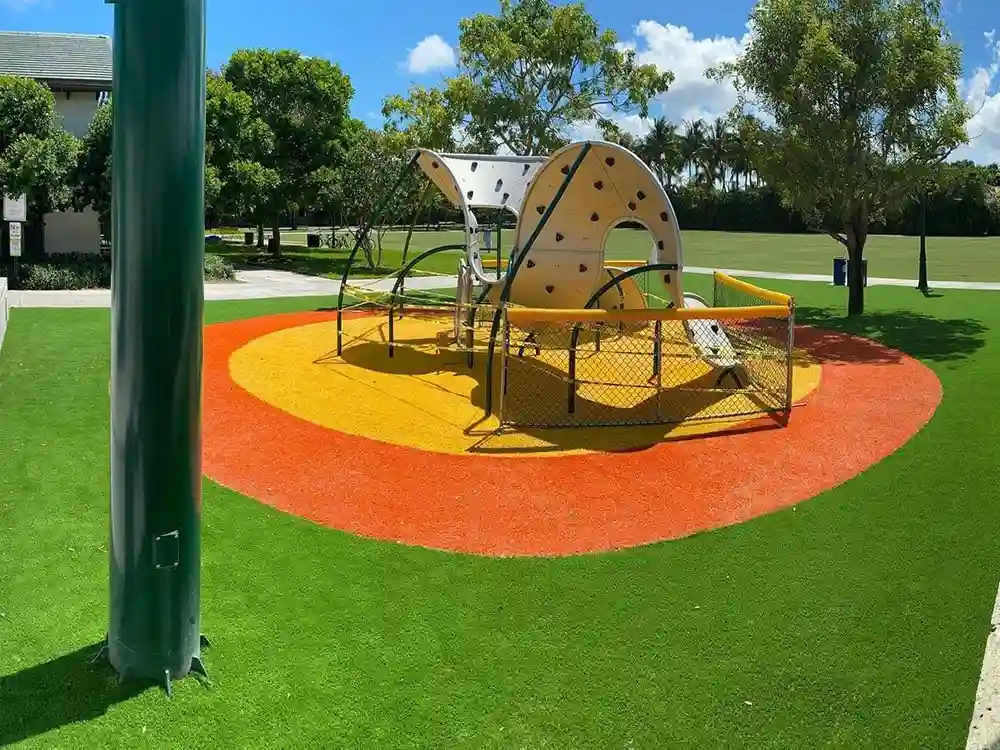 Safer
Our first-rate synthetic playground turf is a safer surface for children's play areas in schools, parks, daycares, and more. Unlike natural grass, sand, woodchips, and other surfacing materials, our artificial grass provides an even, cushioned surface. This helps avoid trip hazards and potential injuries if or when children fall on it.
Cleaner
Cleanliness is a crucial factor for concerned parents, teachers, daycare workers, city planners, and others. Thankfully, our artificial playground grass is easy to clean and keep clean. This is due to its quick-draining technology that allows it to easily be hosed down with water without leaving puddles or pools behind. As a result, children can have a cleaner playground surface to enjoy!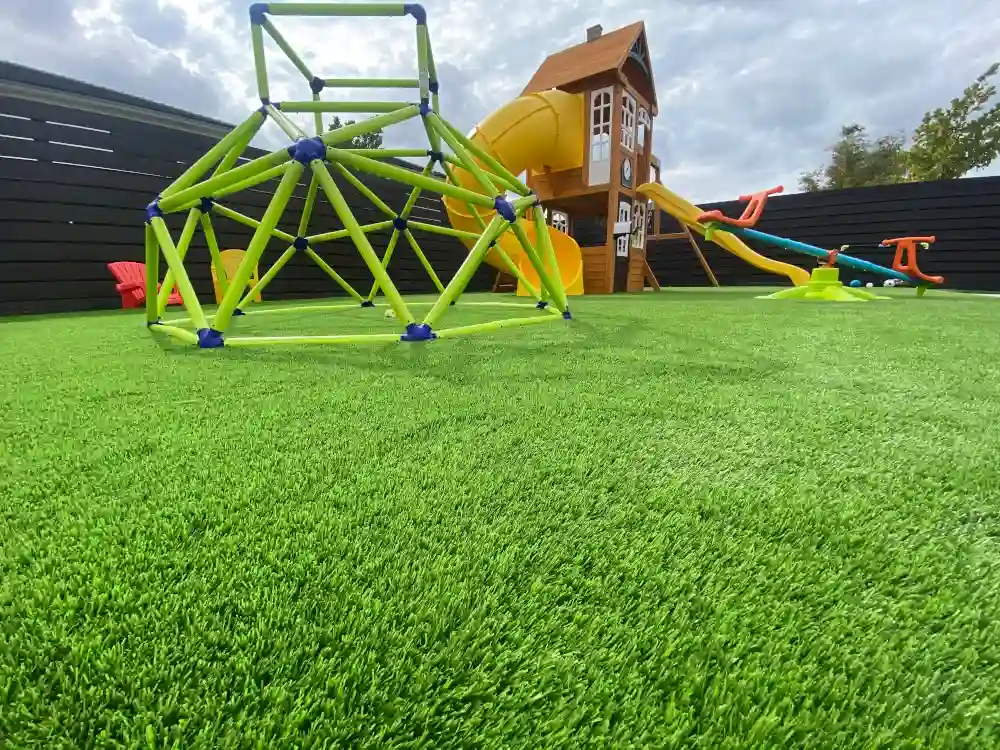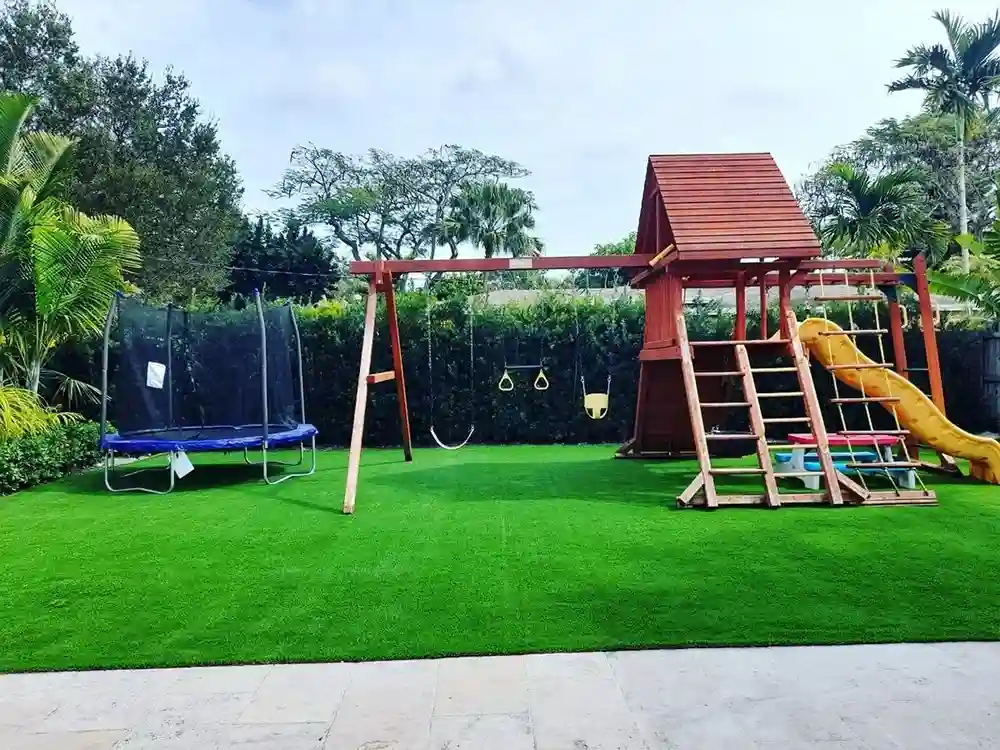 Lower Maintenance
One of the most significant benefits of owning any type of artificial turf from Top Turf is just how easy it is to maintain them, including synthetic playground grass. Unlike natural grass, artificial turf does not need to be watered, mowed, de-weeded, or otherwise. In addition, unlike wood chips or sand, it does not require raking or replenishing. Instead, artificial playground turf maintains its ultra-realistic look throughout its extended life and only requires an occasional cleaning.
Customizable
Synthetic playground turf is also customizable. At Top Turf, we have various types of artificial grass fibers and lengths, which allow you to pick and choose the look of your artificial playground grass. Our playground turf can also be modified to display vibrant colors and patterns to help fit into your unique play area. Some examples of this can be observed in the gallery on our services page!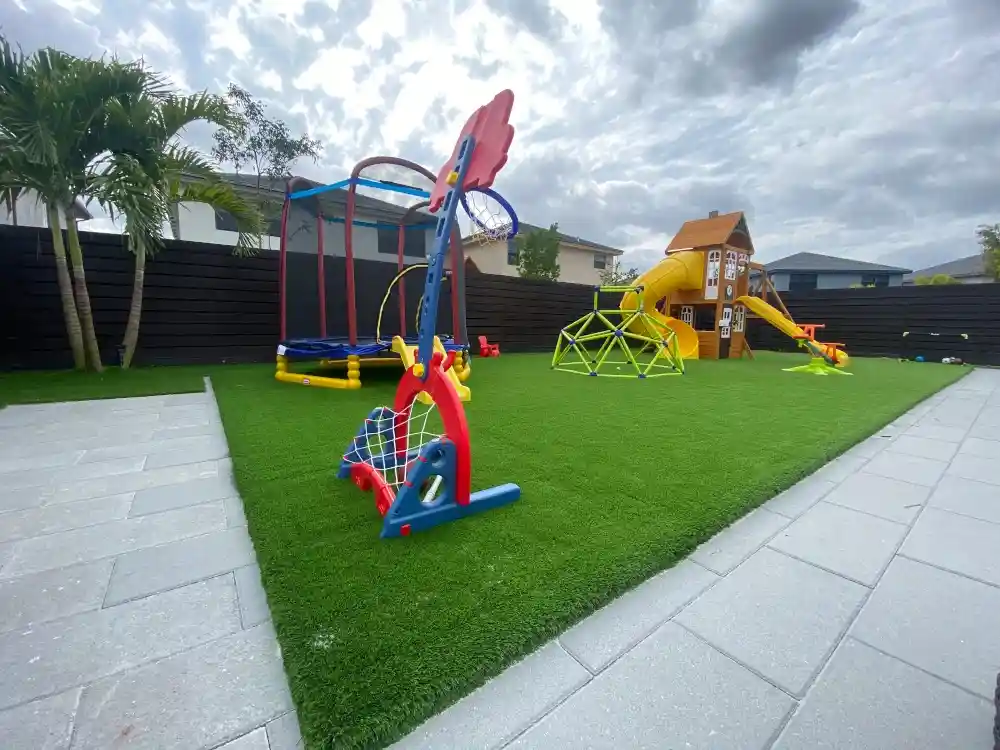 Get a Free Playground Turf Estimate Today!
Artificial playground turf from Top Turf can provide parks, schools, daycares, backyards, and other residential and commercial properties in Orlando and Miami, Florida with a cleaner and safer surface for children to play on. Our top-tier synthetic playground grass is highly durable, consistently stunning, soft to the touch, and easy to clean and maintain. It can transform nearly any play area in Southern Florida into a more favorable space for children.
Contact us today for more information about designing and installing artificial playground turf or to get a free estimate!