Backyard Putting Greens
Installing a first-rate artificial grass putting green in your backyard can be an inviting and fun addition for you and your family. It can also help you save time and money!
Synthetic putting greens from Top Turf are ideal for backyards in Miami and Orlando, Florida because they give you the freedom to practice your game whenever you want. Instead of driving to a course or golf club and waiting for your tee time, you can simply walk out of your backdoor and begin playing. As a result, you can play before work, after work, or on the weekends with your family. It is up to you!
Plus, our artificial grass putting greens require little ongoing maintenance, giving you more time to enjoy them and saving you money!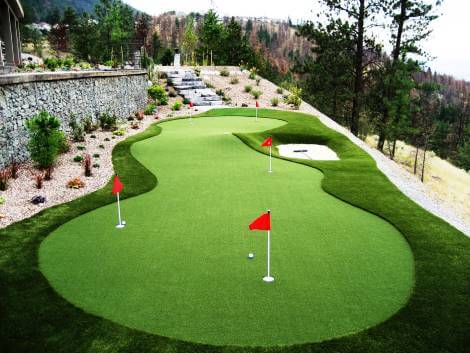 Commercial Putting Greens
For commercial properties, such as indoor or outdoor golf facilities, offices, restaurants, and more, installing synthetic putting greens can be a highly cost-effective investment. Our artificial turf requires little maintenance, especially when compared to natural grass, and can serve as a way to help generate further profit or to help relax. Ultimately, it depends on your setup and needs!
For instance, a commercial golf business or restaurant may want to install an artificial grass putting green as a short course or even a mini-golf course that guests pay a fee to play on. On the other hand, a synthetic grass putting green can be installed in an office space to improve employee morale, who can take turns playing on breaks or during brainstorming sessions, or even impress clients and potential clients.
At Top Turf, our artificial grass product, design, and installation experts can help you identify and install the artificial grass putting green that will fit your business' unique needs!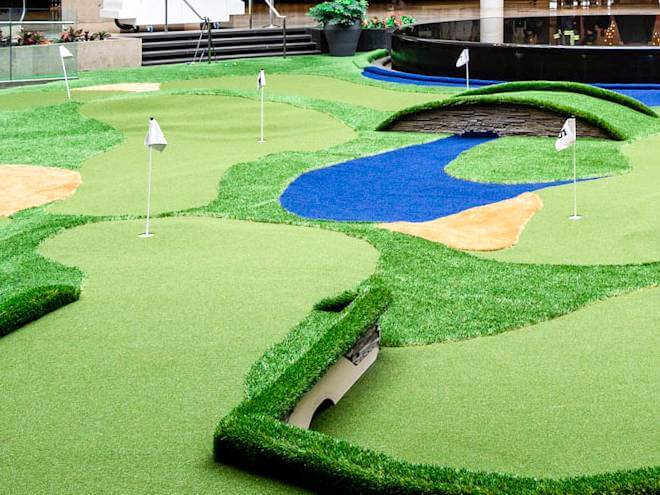 Benefits of Top-Tier Synthetic Putting Turf
Synthetic putting turf provides numerous benefits in residential and commercial settings. Some of these many benefits include:
Low maintenance
Consistent appearance
Consistent playability
Durability
Quick draining
Optimal ball response and performance
Benefits like these make our artificial grass putting greens an ideal choice for backyards, commercial golf facilities, office spaces, and so much more!
Why Choose Top Turf?
AT Top Turf, our team consists of highly trained and experienced professionals who are experts on artificial grass. We work with our clients to provide the synthetic turf products, support, and installation services needed to bring their artificial grass dreams to life – all at affordable prices. As a result, we are a leading synthetic grass installer in Southern Florida, serving Orlando, Miami, and more with our top-tier artificial turf products and services.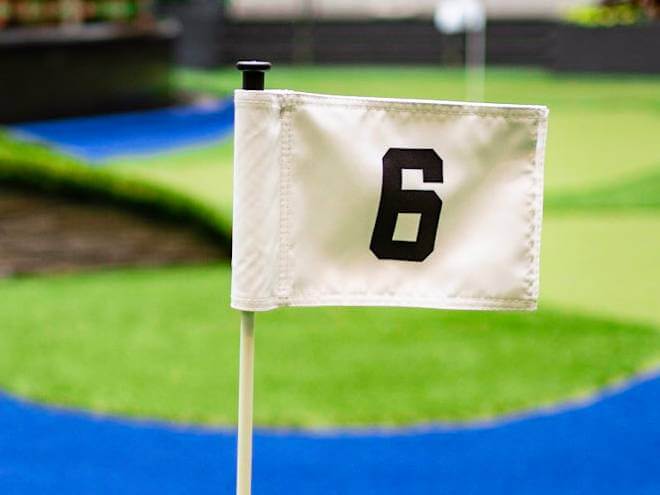 Get a Free Estimate for an Artificial Putting Green Today!
Artificial grass putting greens from Top Turf offer our customers in Miami and Orlando, Florida a consistent, specialized playing surface. This makes our synthetic putting green turf ideal not only for commercial settings, such as golf facilities and offices, but also for backyards in residential settings. Experienced golfers and golf enthusiasts alike can enjoy and admire our high-quality artificial putting greens – no matter which setting they are installed in.
Contact us today to learn more or get a free estimate for the artificial grass putting green you have been dreaming of!